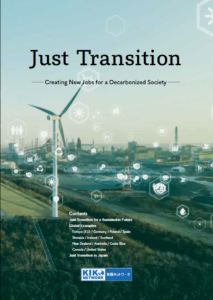 On September 10, 2021, Kiko Network published the report "Just Transition: Creating New Jobs for a Decarbonized Society," which highlights examples of national, regional and local just transition happening all over the world.
In order to prevent global climate change, countries such as Japan have committed to achieve net zero greenhouse gas emissions by 2050. However, to meet the Paris Agreement goal of limiting the global temperature rise to 1.5℃, phasing out coal power, the largest source of emissions, must be prioritized.
Currently, many sectors and industries are energy-intensive and rely heavily on fossil fuels. Phasing out coal could result in significant structural changes in many industries, which will impact jobs and regions connected to them. Therefore, to build a prosperous, zero-emission society, it is important to identify the social impacts of this transition, and take action to protect the economic and social well-being of the people and communities affected by the phase-out of fossil fuels.
A just transition provides workers with high-quality, well-paying jobs, promotes sustainable economic diversification, and strengthens the resilience of communities on the path to decarbonization. This report collects examples of just transition from twelve countries around the world and provides a look at the past, present and future of just transition in Japan.
Report Download
Turkish language translation (PDF) [translated into Turkish by CAN Europe and 350 Turkey]