"A 20% Reduction Against 2013 Levels Approximately a 10% Reduction Against 1990 Levels"
Is Japan telling the world to "abandon climate change mitigation"?
By changing the base year Japan will risk losing international credibility
April 10th, 2015
Kiko Network
Mie Asaoka, President
The Nikkei reported on April 9th that the Japanese government is moving towards adjusting their greenhouse gas emissions reduction target to approximately 20% by 2030 compared with 2013 levels. Although the Chief Cabinet Secretary has denied such reports, if Japan goes through with this target (and becomes Japan's Intended Nationally Determined Contribution, or INDC), Japan will lose international credibility as they will be perceived as abandoning climate change mitigation. This could effectively jeopardize the establishment of a new international agreement in Paris at COP21. Instead of putting forth such a misleading target, the Japanese government must propose an ambitious target that the nation can be responsible for.
Hiding a weaker target by adjusting the base year is unacceptable
The proposed base year of 2013 had the highest amount of CO2 emissions in recent years at approximately 1.4 billion tones (a preliminary estimation). Compared with the Kyoto Protocol base year of 1990, which produced about 1.26 billion tones, this is a 10% increase in CO2 emissions. In other words, a 20% reduction in emissions compared with 2013 is only a 10% reduction compared with the base year of 1990. This is an underhanded way of making a "20% reduction" appear like an improvement by using the base year of 2013. It's unforgivable for Japan to propose such a misleading target.
Japan's target is too low which could jeopardize the international agreement at Paris
At COP19 in 2013, instead of maintaining a previous reduction target of 25% by 2020, the Japanese government presented an interim target of 3.8% target compared with 2005 by 2020 (an increase of 3.1% compared with 1990 levels). In response, instead of turning away from this reduction target, the world is urging Japan to make a meaningful contribution to the Paris agreements this year. However, the reported 10% reduction compared with 1990 levels for 2030 completely disregards the concerns of the international community.
It is not enough to keep global warming under 2°C
According to the IPCC's 5th Assessment Report, to reduce atmospheric cumulative greenhouse gas emissions, in addition to a long-term goal, the pathway leading up to reducing emissions is just as important. Toward the long-term goal of an 80% reduction by 2050 which the Japanese cabinet have decided on, this 2030 target of 20% won't be in line with linear reduction cut. The target is far from adequate when you consider the great burden increased emissions will put on future generations.
Japan must review their new target as it fails to live up to world standards
Currently, 34 countries including EU member nations, the US, Russia and Mexico have already submitted their INDCs. Japan, on the other hand, has not ? despite the end-of-March deadline. We hope that Japan's post-2020 target is one that neither draws international criticism nor brings hardship to future generations. Slashing global greenhouse gas emissions in half by 2050 is a challenge the world will have to face together. Japan needs to make an honest effort to put together an ambitious target. Climate Action Network Japan (CAN-Japan), which includes Kiko Network, recommends the reduction target of 40-50% compared with 1990 levels by 2030.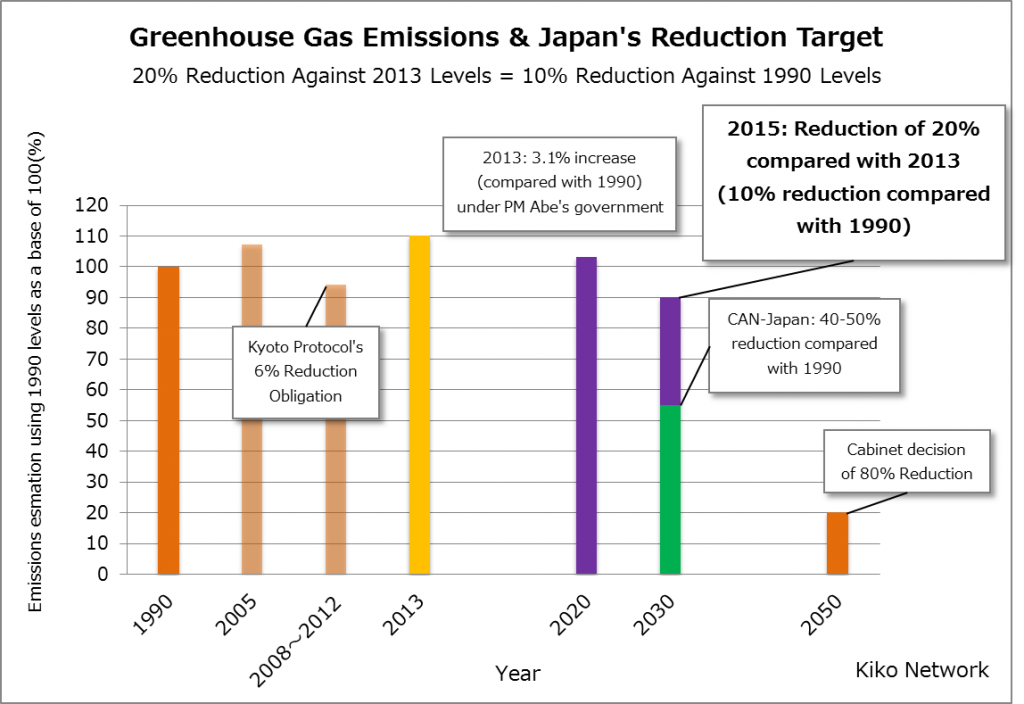 Press Release
"A 20% Reduction Against 2013 Levels Approximately a 10% Reduction Against 1990 Levels" Is Japan telling the world to "abandon climate change mitigation"? By changing the base year Japan will risk losing international credibility?(April 10th 2015)
Contact
Kyoto Office: #305 Takakura Bldg. Takakura-dori, Shijo-agaru, Nakagyo-ku, Kyoto 604-8124, JAPAN
TEL:+81-75-254-1011, FAX:+81-75-254-1012, E-mail:kyoto@kikonet.org
Tokyo Office: 6F, Ichibancho-Murakami Bldg., 9-7, Ichibancho, Chiyoda-ku, Tokyo 102-0082, JAPAN
TEL:+81-3-3263-9210, FAX:+81-3-3263-9463, E-mail:tokyo@kikonet.org